1. Silvia Pelissero
Nothing can really describe this girl's work besides breathtaking. Based out of Rome but currently touring around France, you can check her work out
here
,
here
and
here
!
2. This adorable, simple and cheap DIY from Cupcakes and Cashmere.
I haven't finished making my own yet but (minus the flowers) I bought ALL the supplies to make 2 of them for about $15. How can you beat that???
3. The Help by Kathryn Stockett
I'll admit it. One of the only reasons I picked up this book was because I was so excited for the movie (which was mostly because I love Emma Stone). But, the book wildly surpassed my expectations and now I'm almost scared to see the movie for fear it wont be as good as the book!! Stockett makes you fall in love with the characters literally from chapter one and your attachment to them grows so much that by the end of the book, you'll be sad to see them go.
4. Tinashé: Mbira version of "Zambezi"
That instrument is called a Kalimba and is officially on my birthday wishlist.
5. Camila Vallejo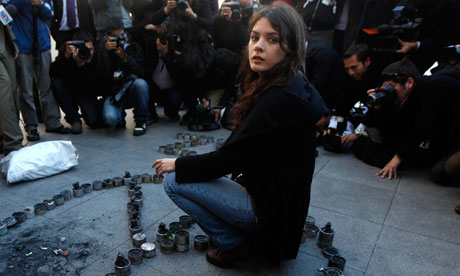 Chile's Commander Camila, the student who can shut down a city. Camila Vallejo's call for better and cheaper education has seen student protests transform into a two-day nationwide shutdown.

You're just going to have to trust me on this one.
7. City Bird Dress
Let me convince you of the endless possibilities of this darling dress from
ModCloth
: Wear it to work with a red cardigan and matching heels, ditch the cardigan and throw on some off white wedges for a day on campus or an afternoon coffee date, or a pair it with a a jacket, tights, a cable knit scarf and your favorite boots for the perfect fall dress! Plus, who doesn't want a dress covered in little bird hanging in their closet?
8. This.
Just a friendly reminder from all of us in Florida to everyone in the North East :-)
9. Calming the baby beast.
I have the exact same reaction to that song!!!
10. Better than sex cupcakes..
Haven't tried them yet... but I'll let you know the final verdict!!